Prehnite and Black Onyx Necklace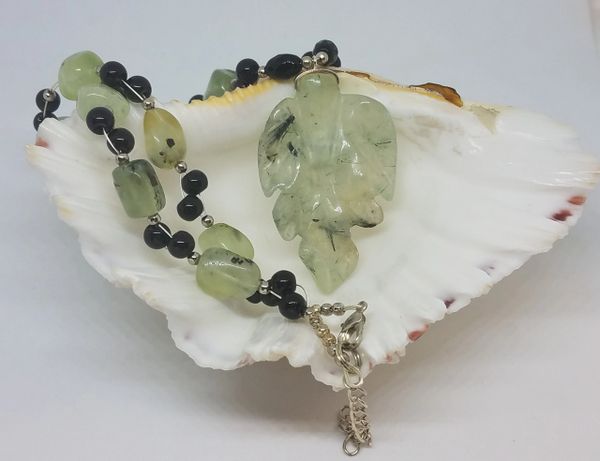 Prehnite and Black Onyx Necklace
Carved Prehnite Leaf Pendant suspended on a necklace of black onyx, prehnite and silver beads. Necklace is 18" long with an additional 2" extender chain. Finished length with the leaf pendant is 20".
Prehnite is a stone of transformation and can help with feelings of unrest and worry. It helps on to embrace new opportunities and change. Prehnite is also said to be a good stone for psychics and intuitives as it helps them be more accurate in their predictions.
Associated Chakra: Solar Plexus, Heart
Element: Earth, Water
Black Oynx is a grounding stone. It enhances endurance and mental strength and focus.,and helps in the  release of any type of fear. It is a calming stone and helps to quell nervousness, anxiety and anger.
Associated Chakras: Root, Soar Plexus, Third Eye
Element:Earth